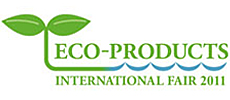 The Eco-Products International Fair (EPIF) 2011 was held at Pragati Maidan, New Delhi, from 10 to 12 February 2011. The exhibition was organized to raise awareness and involve societies in creating a more sustainable environment. During the event, the attendees were introduced to multiple eco-conscious technologies and products. It also provided a platform for the exchange of information among international companies and organizations.
Hitachi demonstrated its strong commitment to achieve a sustainable society through an exhibition of the Hitachi Group's Social Innovation Business contributions at EPIF 2011. This is in line with Hitachi's Environmental Vision, which aims to preserve the environment and promote a sustainable society through the prevention of global warming, the conservation of resources and the preservation of ecosystems. The Hitachi booth included exhibits such as Hitachi's solutions in Gas Turbine, Smart Grid, Energy-Saving Inverter, Electric Drive Machines, Amorphous Transformer, Clear Ballast System, Membrane Bioreactor, Intelligent Water System, Split Air Conditioners and Chillers.
A press conference was held in conjunction with EPIF 2011 and a number of key media were invited to the press conference to understand more about Hitachi's business and development in India.