Information contained in this news release is current as of the date of the press announcement, but may be subject to change without prior notice.
Hitachi Exhibit Its Elevator at "ACETECH Hyderabad 2018"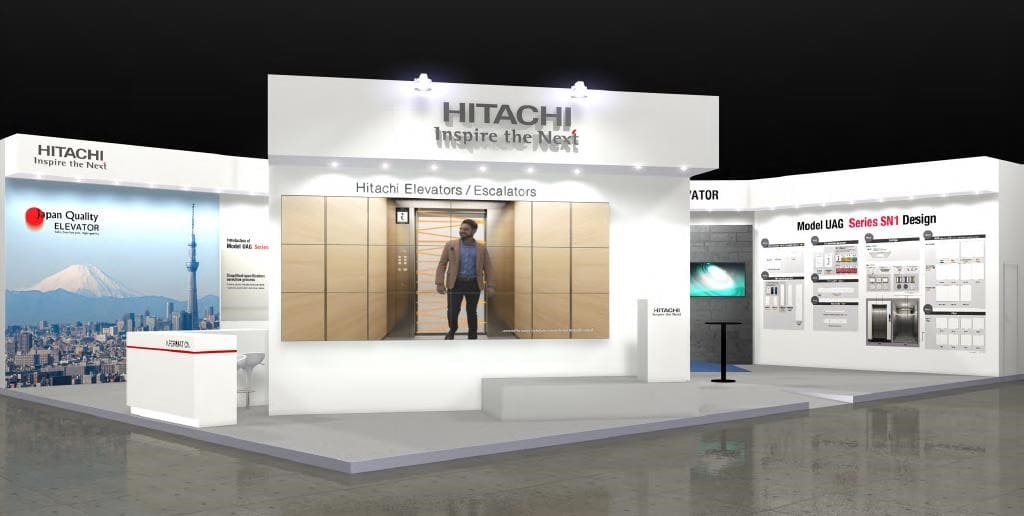 ACETECH Hyderabad 2018 Hitachi booth Image
Hyderabad, India, January 15, 2018 --- Hitachi, Ltd. (TSE:6501, "Hitachi"), Hitachi Building Systems Co., Ltd., which operates elevator and escalator business in Japan, Asia and Middle East, and Hitachi Lift India Pvt. Ltd. ("Hitachi Lift India"), a sales and service company of elevator and escalator in India, today announced that they will exhibit an elevator equipped with Hitachi's latest technology, safety and comfort at "The Economic Times ACETECH Hyderabad 2018" held in the HITEC EXHIBITION CENTER in Hyderabad, India from 19 through 21, January, 2018.
In the Hitachi booth, they will display an elevator model and excellent design samples and give a presentation of Hitachi's entire business as well as its elevator and escalator business so that visitors can gain a deeper understanding of safety and comfort of the Hitachi elevators.
Hitachi's elevator and escalator business in India
Hitachi established Hitachi Lift India in January 2008, and since then it has delivered its products including high speed elevators for luxury residences, hotels and offices. Hitachi Lift India currently operates in major cities in India, such as Delhi NCR, Mumbai, Bangalore, Chennai, Pune, Ahmedabad. In Hyderabad, Hitachi Lift India opened an office in July 2017, and it has enhanced its operations in sales, installation and maintenance of its products.
By applying the latest technology used for Hitachi's world highest(1) speed elevators running at 1,260m per minute and introducing it into the Indian market, Hitachi will contribute to improve convenience of buildings and provide highly safety products.
Outline of The Economic Times ACETECH Hyderabad 2018
| ACETECH | The Economic Times ACETECH is a series of Asia's largest architecture, building materials, design and décor exhibitions. It is recognized as India's main event for bringing major international and domestic players from the building and interiors industry. http://etacetech.com/ |
| --- | --- |
| Schedule | From 19 through 21, January 2018 |
| Venue | HITEX EXHIBITION CENTRE – HYDERABAD |
| Location of Hitachi booth | Hall No.3, A11 |
About a model to be exhibited: a machine room-less elevator
Hitachi's machine room-less elevator for Asia and the Middle East, in addition to its excellent design, offers standardized basic specifications to respond flexibly and quickly to the needs of customers. It applies the latest design and functions developed for the Japanese market, realizes a high level of safety and an energy saving with the use of a regenerative operation system and LEDs, and creates a clean and comfortable environment in the car with a deodorizing ion generator.
Safety
An infrared sensor at the doors prevents boarding and departing passengers from getting caught between the doors. This sensor also flashes red to let users know that the doors are closing. An automatic landing device can be equipped as an option which operates the car to land on the nearest floor and the doors to open in case of power outage.
Energy Saving
This model uses LED lights in the car, helping to reduce

(2)

the lighting power to levels lower than conventional models with fluorescent lights. In addition, the traction mechanism acts as a power generator to transmit power back to the electrical network in the building.
Comfort
An ion generator installed on the car supplies ions with a deodorizing effect, helping the air in the car clean.
Design
This model is designed to meet a wide range of customer needs with a number of car deigns and LCD that show all kinds of information.
(1) By Hitachi research as of December 2017
(2) Rate of reduction varies by model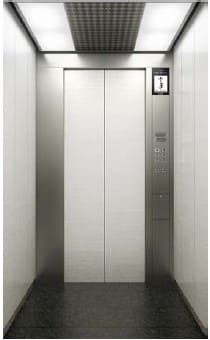 Design of the inside of a machine room-less elevator for Asia and the Middle East
About Hitachi, Ltd.
Hitachi, Ltd. (TSE: 6501), headquartered in Tokyo, Japan, delivers innovations that answer society's challenges. The company's consolidated revenues for fiscal 2016 (ended March 31, 2017) totaled 9,162.2 billion yen ($81.8 billion). The Hitachi Group is a global leader in the Social Innovation Business, and it has approximately 304,000 employees worldwide. Through collaborative creation, Hitachi is providing solutions to customers in a broad range of sectors, including Power / Energy, Industry / Distribution / Water, Urban Development, and Finance / Government & Public / Healthcare. For more information on Hitachi, please visit the company's website at http://www.hitachi.com.