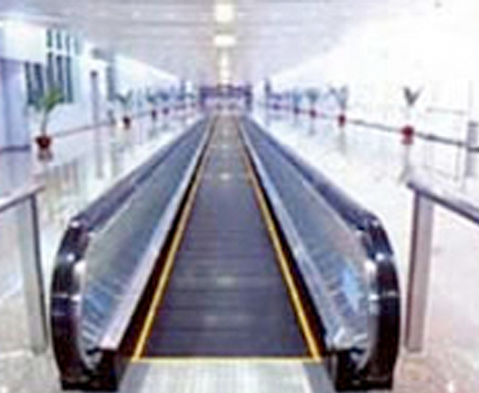 Moving Walkways
Hitachi develops world-class moving sidewalks leveraging its expertise in urban mobility solutions. Our credibility and competence in electrical and electronic technology has helped us build slimmer, sophisticated, and passenger-friendly walkways that transport large numbers of people with the minimum waiting time. Our customers enjoy the benefits of:
Reduced Energy Consumption
Hitachi has enhanced the drive mechanism in the top machine room which can reduce energy expenditure by approximately 30%. Hitachi has also developed a new line of reduction gears that increases exponentially, the efficiency and energy saving. Further, Hitachi offers its advanced Microcomputer Control System Technology which enables the sidewalks to run at a slower speed or halt when there are no passengers, which significantly reduces energy consumption.
Sturdiness & High Quality
Hitachi is industry's first to introduce stainless steel moving sidewalk pallets. This prevents the surface from any deformity and assures a long lifespan of the pallets. Hitachi's moving sidewalks are slimmer, more aesthetically pleasing, and user-friendly.
Safety First
Hitachi has equipped its moving sidewalks with many safety devices such as emergency stop button, drive chain safety device, speed governor, and more. Also, its unique slip-resistant notched design can prevent the passengers from slipping on the pallet.
Comfort & Convenience
Hitachi pays special attention to the convenience of passengers and therefore uses a slim handrail which makes it easier for all passengers, especially children, to grip it. Yellow demarcation lines on both sides of the pallets help passengers easily distinguish the passenger area, adding to their convenience and safety.
Explore more about Hitachi Moving Walkways.
Explore More