The integration of the control technologies that operate social infrastructure smoothly and the information technologies that make the lives of people and businesses "smart" generate new values and contribute to a safe, secure, comfortable, and green community, in which a low-carbon society and quality-of-life are compatible.

Information-control integration system
The integration of the control technologies that optimally operate social infrastructure and the information technologies that support human behavior enables us to create a next-generation social infrastructure system that can operate the underpinnings of society in a smart and smooth way, with the ability to adjust it for optimization.
Information
The evolution of information technologies has allowed us to visualize and understand enormous quantities and various types of data.
New communication measures using the Internet have become widespread all over the world.
In this way, information systems assist human behavior and contribute to making both societies and businesses smart.
Control
Stably supplied power, safe drinking water, safe and precise railway operations, high-quality and highly-efficient manufacturing, and so forth.
In Japan, these matters are supported by control systems that automate lifelines/factory production lines and operate equipment, etc., smoothly, reasonably, evenly and efficiently.
EAM (Enterprise Asset Management): total optimization of enterprise assets
Organize a great deal of equipment operation data into knowledge in order to use it for management
EAM systems collect and analyze the operation and maintenance data of equipment and check it with the accumulated information, thereby upgrading control technologies. In addition, through continuous feedback by verifying the execution results, the maintenance work of an overall enterprise is optimized.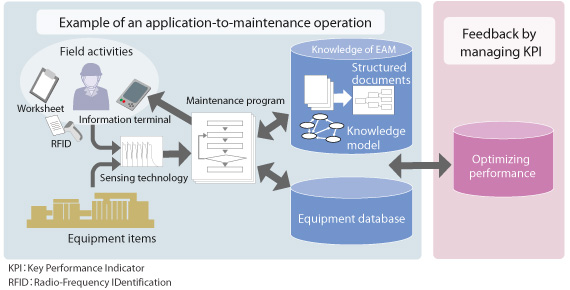 Digital signage system: connecting infrastructure systems and people
Providing information suitable for optimal place, time and purpose, in order to assist the movement of people
The railway traffic control data that the control systems utilize is provided to station users in a timely and understandable way. This contributes to improved convenience for railway users and to safer operations.